Welcome To Safe Seafood coin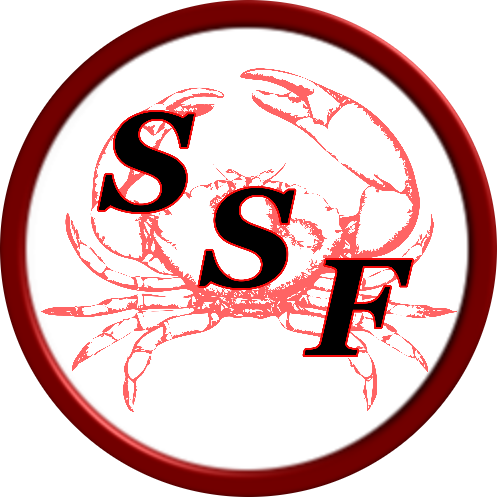 Ticker: SSF
Safe SeaFood ($SSF)
coin's aim is to improve the existing ways in which global aquaculture, the hospitality industry and restaurants store the harvest and shipping information contained on industry standard
Shellfish and Seafood Harvest Tags
by incorporating that information into the
Safe SeaFood blockchain
so local, state and federal regulators can track and retrieve that information in a secure, indisputable, tamper resistant, verifiable way using blockchain technology.
The seafood supply chain moves 158 million metric tons of fish, shellfish and other bounty from the sea each year. It creates livelihoods for tens of millions of people and feeds billions by tapping the world's last major source of wild protein. Realizing the potential of blockchain technology in Aquaculture and the hospitality industry, however, this requires Aquaculture advocates to understand how seafood supply blockchains work, and that is where SSF blockchain comes in. We will work with Aquaculture advocates and Government Regulators/Inspectors to help them implement the use of
SSF blockchain
technology as a way to streamline the management and storage of the Shellfish and Seafood Harvest Tag requirement and help improve overall Health and Safety standards governments and regulators demand of industry.
Beginning January 1, 2018 the United States started to enforce its Seafood Import Monitoring Program (SIMP), guaranteed traceability of seafood is set to become even more important than it is now, so NOW is the time to act, and to implement use of SSF blockchain technology to meet new requirements coming to the industry standards.
Our main goal is to keep the storage of SSHT information in a secure, tamper resistant way using blockchain technology as cost efficient as possible. That is why we choose a POW/POS coin and not a ERC20 Token. ERC20 tokens are dependent on the Ethereum (ETH) blockchain. The ETH blockchain is congested and expensive therefore the cost of doing business on that chain is very high. We decided that we could keep the cost of storing SSHT data to a minimum by only charging a "transaction fee" for payment to the miners to keep a secure network. While using
Safe SeaFood Coin ($SSF)
to help satisfy the inspection, maintenance and record keeping requirements that many government's demand of harvesters, fisheries and restaurateurs (USDA,NSSP,CSSP, The EU's Commission's Health and Food Audit and Analysis Directorate or any other national government's Shellfish Sanitation Program) you can cut the cost of inventory waste, inspection, storage, record maintenance and keeping requirements by using Blockchain Technology.
• Using the Safe SeaFood Coin ($SSF) Wallet to input the Shellfish and Seafood Harvest Tag information will help the seafood industry cut costs by eliminating product being returned unusable due to lost, ripped or removed Harvest Tags along with a efficient and verifiable way to store that information depending upon your particular requirements.
• Using the Safe Seafood Coin ($SSF) wallet to input the information contained on the Shellfish and Seafood Harvest Tag will help the Restaurant industry fulfill the requirements of storage by local, state and federal regulations. Currently the tag must remain on the container until all shellfish in the container are sold or discarded. The tag must then be kept on file by the retailer for 90 days. By inputting that information on the SSF blockchain we are able to keep that information accessible to inspectors and health departments for an interminably amount of time and accessible from any computer terminal.
• Using the Safe SeaFood Coin ($SSF) explorer local, state and federal inspector's can retrieve and verify any and all information associated with a wallet address, transaction id and visually see the Shellfish and Seafood Harvest Tag information
What is the $SSF Blockchain?
The Safe Seafood blockchain is a global network of computers using blockchain technology to jointly manage the
Safe Seafood Coin ($SSF)
database that records
Safe Seafood Coin ($SSF)
transactions and with-in those transactions contain all the Shellfish and Seafood Harvest Tag (SSHT) data inputted by the user. The SSF blockchain is an immutable ledger, changes in possession and ownership of product as it moves from the producer to the point of retail could be entered into the SSF blockchain ledger instantaneously and permanently. Because the
SSF blockchain
is decentralized, it has no single point of failure. So, shipping, possession and ownership information could be better protected from tampering or hacks. That is,
Safe SeaFood blockchain
is managed by its network, and not any one central authority. Decentralization means the network operates on a user-to-user (or peer-to-peer) basis leaving the data entrusted in a secure, tamper-resistant and easily accessible format.
What is a Shellfish and Seafood Harvest Tag?
Harvesters and retailers of shellfish are required by the USDA, NSSP, CSSP, The EU's EC's Directorate-General for Health and Food Safety or any other national government's Shellfish Sanitation Program (just to name a few) to tag their containers of shellfish with certain information in order to assure public safety. This includes but not limited to: Oysters, Clams, Razor Clams, Steamers, Surf Clams, Mussels, Littlenecks, Quahogs, Bay Scallops, Sea Scallops, Countnecks, Topnecks, Cherrystones, and others.
The NSSP is a federal/state cooperative program recognized by the U. S. Food and Drug Administration (FDA) and the Interstate Shellfish Sanitation Conference (ISSC) for the sanitary control of shellfish produced and sold for human consumption. A similar program is used in Canada (CSSP) and the EU (DG SANTE, formerly known as DG SANCO), is the competent authority and represents EUMS with respect to food safety controls for shellfish and seafood.
And here is why it is important .....
Shellfish poisoning is a general term used to indicate poisoning that occurs when shellfish (mainly oysters, clams, scallops or mussels) are eaten by humans. Shellfish are usually associated with saltwater habitats, but some species inhabit freshwater.
• Shellfish can carry a variety of naturally occurring seafood toxins that cause poisoning in humans including: paralytic shellfish poisoning, amnesic shellfish poisoning, neurotoxic shellfish poisoning and diarrhoetic shellfish poisoning.
• About 80,000 people get vibriosis – and 100 people die from it – in the United States every year.
• One strain of the bacteria was known to be responsible for sickening an estimated 45,000 people in the U.S. each year.
• Examples of some of the types of bacteria that may be found in seafood that cause foodborne illness by infection are Vibrio, Salmonella, Shigella, and Listeria. From 1973 to 2006, Vibrio species accounted for 38% of the outbreaks associated with seafood and 54% of the illnesses.
• Pathogens may be present at low levels when fish or shellfish are harvested, and others may be introduced during handling and processing or by unsanitary practices.
• Paralytic shellfish poisoning (PSP) is a serious illness caused by eating shellfish contaminated with dinoflagellate algae that produce harmful toxins. Some of these toxins are 1,000 times more potent than cyanide, and toxin levels contained in a single shellfish can be fatal to humans.
Industries that can benefit by using $SSF
All of the shellfish and seafood Industry where harvest tags are required to be produced, recorded and maintained.
• Global aquaculture – Fisheries, Hatcheries, Farms ..
• Restaurants and Pubs
• Convention Centers
• Casino's and Gaming Entertainment
• Food Wholesale Industry
• Supermarkets/Markets (where required)
• Sports and Entertainment Hospitality
• Hotels and Resorts
How Industry can Benefit by Using SSF Blockchain
• Provide authentication of Origin
• Help ensure safe and quality seafood
• Assure and improve traceability from Farm to Fork
• More efficient control and management of the Shellfish and Seafood Harvest Tag requirements
• Increased productivity through reduced product waste of a natural resource
How it Works!
Using Safe SeaFood Coin ($SSF), the information required by your local government regulations such as:
• Name/Address of Fishery/Retailer
• Cert. No
• ID No
• Original Shipper (if other than above Cert No) Cert No.
• Harvest Date
• Harvest Location
• Type of Seafood
• Quantity
• Ship To
• Ship Date
• Re-shippers Cert No. -
• Wet Storage Harvest Date -
• Lot# -
• Shellfish Tag Serial No. -
• Farmed/Wild
• Wet Stored at ____ From __ to __
• Product of (Country Name)
Or any other information that will keep you in compliance with your inspection, maintenance and record keeping requirements. This information is then inputted into the Safe SeaFood Coin blockchain by sending a small amount of $SSF to a address specifically produced for this purpose, that YOU own!
Yes, the only fee to store the hash information on the SSF blockchain is the small transaction fee for the SSF miners to maintain the security and integrity of the SSF blockchain.
SPEED
$SSF is a POW/POS scrypt mineable "crypto-currency" with quick transaction processing. (300 second block time)
METADATA
You can attach Shellfish and Seafood Harvest Tag data on the blockchain, up to 995 bytes, to every transaction and store it permanently on the $SSF network.
SECURITY
Safe Seafood coin is based on the Bitcoin, Litecoin and CryptoBuck source code and therefore data is secured by the $SSF network.
SPECS
Name: Safe SeaFood Coin
Ticker: SSF
Algo: Scrypt
Minimum Transaction Fee - .02 $SSF
Minimum Transaction - .05 $SSF
Network port: 43128
RPC port: 34218
Pre-mine for Development Funding/Promotions – 2,000,000*
POW Stats
POW Block Reward – 10 $SSF
Confirmation Maturity - 30 Blocks
Block Target Time - 300 Sec
POS Stats
POS Block Reward - 3% APR
Confirmation Maturity - 30 Blocks
Block Target Time - 300 Sec
LINKS
Below are helpful links for you to download our wallet for the operating system of your choice and for contacting us.
SOURCE -
https://github.com/SafeSeafoodCoin/SafeSeafood
WALLET- Windows -
https://github.com/SafeSeafoodCoin/Wallets
WALLET - Linux -
https://github.com/SafeSeafoodCoin/Wallets
WALLET - Mac - Coming Soon
ANDROID - Coming Soon
IOS - Coming Soon
WEBSITE -
www.safeseafoodcoin.com
EXPLORER -
http://pacific.safeseafoodcoin.com
OFFICIAL SSF POOL - NERDLABS -
http://bit.ly/ssfpool
Safe SeaFood Coin encourages you to contact your local regulatory agency and ask them to incorporate SSF Blockchain technology into their food codes.